Download the Solent Go Android app
Solent Go has introduced an NFC Android app to its online services to make loading tickets onto your Solent Go travelcard even easier.
With the Solent Go app you can load tickets purchased through your online Solent Go account direct to your travelcard, which means you can now do everything online. So when the bus or ferry arrives you just simply tap in and hop on without waiting for your tickets to download first*.
What could be easier?
Simple and easy to use
Keep tab of your tickets
Upload top-up and new tickets directly to your card anywhere**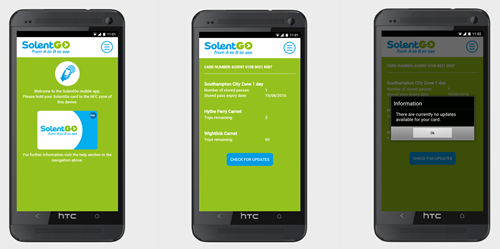 To take advantage of the free Solent Go NFC Android app service you will require an Android enabled device running KitKat (version 4.4) or later and capable of using Near Field Communication (NFC). For more information about the app and to download it visit Google Play Store 
We've also updated our FAQs to help with any queries you may have.
How to use
To upload tickets to your Solent Go travelcard using the app you need to select 'Solent Go NFC Android app' as the method of collection when purchasing your tickets through the Solent Go ticket gateway
Once tickets have been purchased, open the app and hold your Solent Go travelcard to the NFC sensor on your phone. The location can vary on different devices so check with the manufacturer if you are unsure. Then follow the on screen instructions.

*The Solent Go app does not replace the Solent Go travelcard, nor can a smartphone or tablet be used as evidence that a valid ticket has been purchased.
**Internet access required.